In partnership with the COP26 Presidency, CCRI presented 

'Art + Resilience' 

in Glasgow, skilfully combining both art and data, to deliver a powerful and timely visual message about climate risk and resilience.
November 1 - 12, 2021

Glasgow, Scotland
By bringing together works of art from countries across the globe and representing various climate risks, the exhibition not only considers the wide-ranging and direct impact of our changing climate on communities, but also seeks to encourage meaningful action towards a more resilient future for all.
The Art + Resilience Exhibition features two main components to be delivered over the course of the Summit. The first component will be (i) a specially commissioned parametric data sculpture showcasing climate risk related data as an aesthetic art form, and (ii) an Augmented Reality Art 'trail' which will offer a unique public art experience for attendees to the conference and the public alike.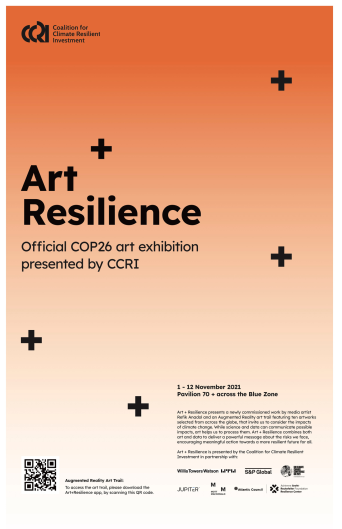 About the Coalition for Climate
Resilient Investment
A United Nations Climate Action Summit (UNCAS) and COP26 flagship initiative, The Coalition for Climate Resilient Investment (CCRI) represents the commitment of the global private financial industry, in partnership with key private and public institutions, to foster the more efficient integration of physical climate risks (PCRs) in investment decision-making.
CCRI aims to create a more resilient global financial industry in which key incentive structures foster an accurate pricing of physical climate risks (PCRs) in investment decision-making, resulting in more resilient economies and communities across the world.
The Coalition brings together private companies, governments and inter-governmental bodies, including many of the world's leading financial businesses and asset managers that collectively manage more than US$20 trillion in assets.