LONDON, 29 September 2022 — Mott MacDonald and the Coalition for Climate Resilient Investment (CCRI) have today launched a pioneering approach that enables asset owners and investors to accurately understand the exposure of critical infrastructure to climate risks.
Developed to address the massive resilience gap in financing, the Physical Climate Risk Assessment Methodology (PCRAM) is a global practitioner's guide that supplies the practical tools to identify and assess the resilience of infrastructure assets. PCRAM, which is the first of its kind, also clearly demonstrates the positive returns from investment in climate resilient assets that are essential to incentivise and scale up private sector engagement.
Investment in resilience lags well behind the financing of climate mitigation. According to the Climate Policy Initiative (CPI), total spending on climate finance during 2019-2020 reached US$632bn, with mitigation finance accounting for US$571bn compared to just US$46bn on adaptation and resilience; significantly less than what is required to meet the challenges posed by climate change, according to the CPI.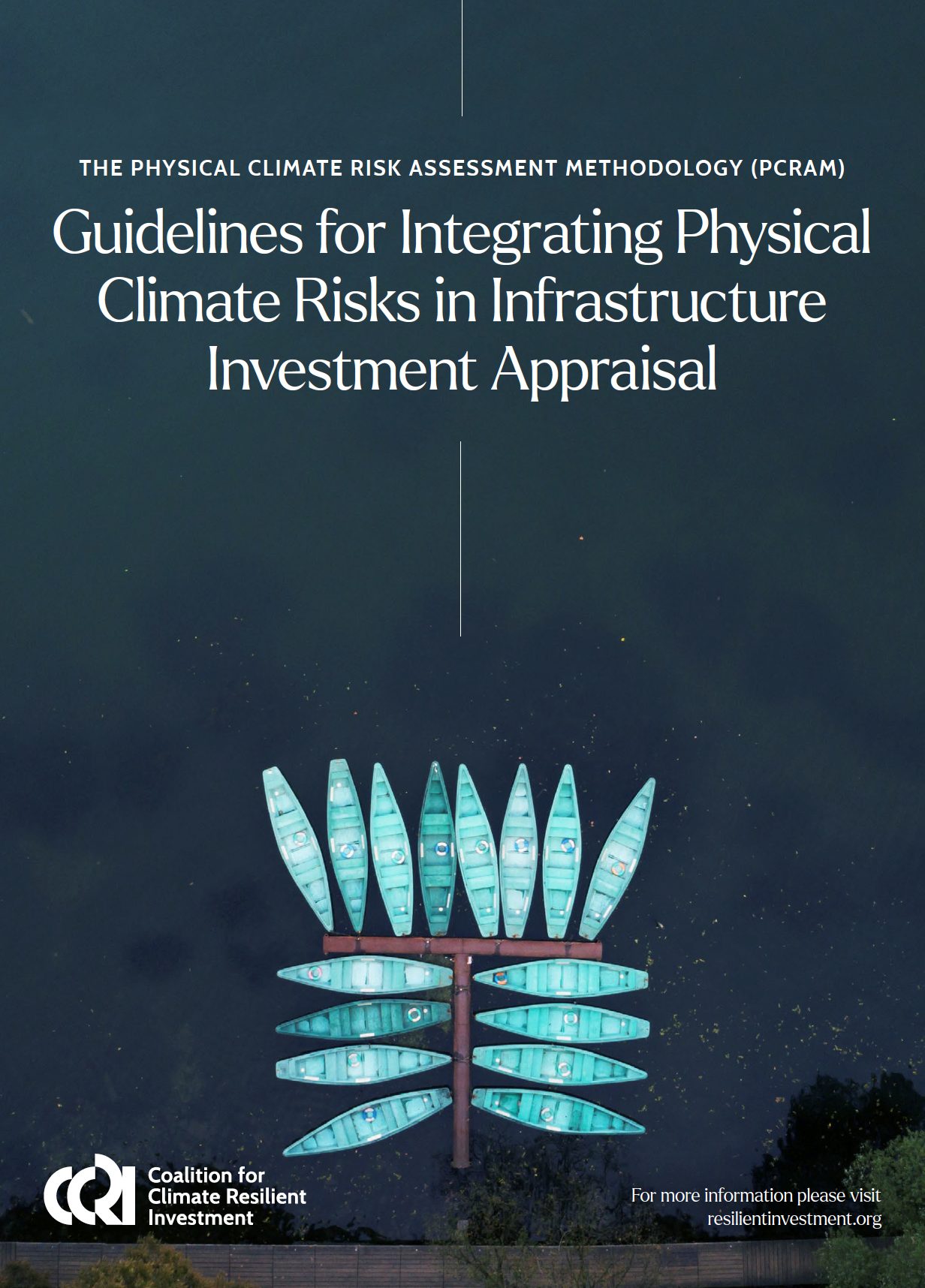 Carlos Sanchez, Executive Director, Coalition for Climate Resilient Investment, said:
"CCRI delivers rigorous analytical solutions that clearly demonstrate resilient investments are good investments. Strong market forces are pushing the industry towards improved enforcement and reward of these integration practices, translating into opportunities for those that take early action. CCRI analytics offer the potential to drive a more efficient allocation of capital towards climate resilient investments, without which we are unlikely to future-proof our communities for the decades ahead."
Designed to enhance the financial valuation of investments, instead of minimising losses, PCRAM uses new methodology that gives infrastructure owners and operators the means  to evaluate physical climate risks to infrastructure and analyse their long-term impact on asset performance. This capability ensures climate risk assessment is integral to adapting infrastructure assets - from asset design on day one and through the entire life cycle of the project - leading to significant reductions in the cost of future climate adaptation measures and improvement in the quality of revenue streams.
For the first time, PCRAM also brings together climate data providers, resilience practitioners, asset managers and investors to assess and quantify physical climate risks. Mott MacDonald tested the methodology on five real-world infrastructure assets, including a nearshore wind farm in South East Asia and a hydropower plant in Africa, with each case delivering a 'resilience dividend.'
Denise Bower, Executive Director at Mott MacDonald, said:
"We set out to create a framework that enable public and private sector infrastructure investors to assess their exposure to climate physical risks, quantify this exposure and improve their asset performance. What we found is that investing in resilience leads to better outcomes, better performance, less downtime, less maintenance and, most importantly, fewer negative impacts on the communities that infrastructure serves.
"All of this means a higher rate of return for investors and is a powerful tool for building the case for resilience. This is vitally important work. Even if we do manage to limit global warming to 1.5°C, we will still see decades of continued changes to our climate that will result in immense economic shocks and loss of life if we are not prepared."
Douglas L. Peterson, President and CEO, S&P Global, said:
"S&P Global welcomes the leadership and cooperation fostered by the CCRI through its work with the private and public sectors, including the UN. The authors and contributors of this report have taken an important step forward on the path to allocating the capital needed to enhance the resilience of infrastructure assets."
Rebecca Mikula-Wright, CEO of Investor Group on Climate Change, said:
"PCRAM is an essential building block for investors to increase the resilience of their own portfolios and the communities they invest in. Additionally, it repositions physical risk as not only cost minimisation (for loss and damage) but as an opportunity for value creation."
Carlos Sanchez added:
"There is huge appetite from the private sector to invest in resilience. What has been missing so far are the tools to invest with confidence. Our methodology looks at specific infrastructure risks and how they will affect asset performance, life cycle and maintenance. We can then present a solid business case for resilient investment, unlocking the finance needed to protect vulnerable communities from the impacts of climate change."
About Mott MacDonald
Opening opportunities with connected thinking. Mott MacDonald is a US$2bn engineering, management and development consultancy.
Our purpose is to improve society by considering social outcomes in everything we do; relentlessly focusing on excellence and digital innovation, transforming our clients' businesses, our communities and employee opportunities.
To this end we're involved in:
solving some of the world's most urgent social, environmental and economic challenges
helping governments and businesses plan, deliver and sustain their strategic goals
responding to humanitarian and natural emergencies
improving people's lives
Our expertise by sector includes buildings, communications, defence, education, environment, health, industry, energy, transport, urban development, water, wastewater and more. Our skills encompass planning, studies and design, project finance, technical advisory services, project and programme management, management consultancy and beyond.
For every project, we create the blend of talent needed to create the right result – appropriate; cost, carbon and resource-efficient; safe, easy and swift to deliver and operate; reliable and resilient; delivering great outcomes.
Engineering. Management. Consultancy. mottmac.com
About the Coalition for Climate
Resilient Investment
Coalition for Climate Resilient Investment is a broad-based, global coalition which aims to 'mainstream' climate risks in investment decision-making. It was launched formally at the UN Climate Action Summit in 2019 with the UK Government, the World Economic Forum and WTW spearheading the initiative. The other convening institutions include the Global Commission on Adaptation and the World Resources Institute.
The Coalition currently comprises 123 institutions, including institutional investors, banks, rating agencies, engineering firms and insurance companies, representing US$25tn of financial assets. Learn more at www.resilientinvestment.org